Connect with us!
News & Announcements
Posted on 02/17/2015

CHE's third series of Community Conversations begins March 3. Continuing with the popular "My Story" theme, dates and times are:

-My Story: I Treated Ebola Patients, March 3, 1:30-3 p.m.
-My Story: I Am a Suicide Survivor, March 26, 10-11:30 a.m.
-My Story: I Was Homeless, April 28, 1:30-3 p.m.
-My Story: I Live with Mental Health Challenges, May 20, 10-11:30 a.m.

Online registration is requested. Go to http://tinyurl.com/CHE-Events for a complete list of CHE events and to register.

Posted on 02/09/2015

The Michael J. Tavlin Leadership Award is given annually to an individual board member who has provided "exceptional and visionary commitment to board and community service." Nominations are due to CHE by 5 p.m. on Monday, March 9, 2015. For more information about the award or to download a nomination form, click on the title of this article.

Posted on 01/05/2015

Download the materials provided during CHE's Applicant Workshops by clicking on the title of this article. Access the online application in the "Ready to Apply?" section under the Grant Program tab on this website. Stage I Applications for the Spring 2015 Grant Cycle are due to CHE no later than 5 p.m. on Friday, January 30, 2015.
CHE Featured in Why Community Matters Video Series
CHE and two of the projects we have funded -- the Lincoln Public Schools Wellness Coordinator through Partnership for a Healthy Lincoln and the REAL Program of the Mental Health Association of Nebraska are featured in the latest round of "Why Community Matters" stories sponsored by Pinnacle Bank. View the video here.
---
Largest Grant in CHE History Supports Integrated Clinic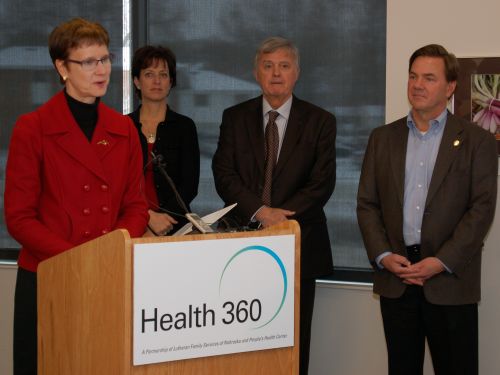 The largest grant in the history of the Community Health Endowment of Lincoln will support Health 360, an integrated primary care and behavioral health clinic, scheduled to open in late 2015. CHE's $1.3 million investment will help renovate the former Office Max building at 23rd and O and provide operational support. Mayor Chris Beutler and City Councilman Carl Eskridge along with officials from CHE and collaborating providers Lutheran Family Services of Nebraska and the People's Health Center announced the project in a news conference held recently at CHE.
Media Coverage
$1.3 million investment will help fund integrated clinic, Lincoln Journal Star, 12/18/14
Nonprofits plan health clinic for former OfficeMax building, Lincoln Journal Star, 12/18/14
New Integrated Health Clinic to Open in Lincoln, 10-11 News, 12/18/14
News Conference Video, 5 City TV, 12/18/14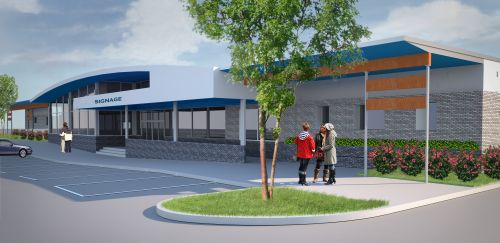 ---
Community Conversations Feature Personal Stories
The final event in this fall's series of Community Conversations, My Story: I Am A Cancer Survivor, featured stories of the power of screenings and early detection. Thank you to the panelists who shared their experiences and to the Malone Community Center for partnering with CHE on this event. Watch for information about a new My Story series coming this spring. Contact Marcia White, CHE Program Manager, if you have ideas for stories you'd like to share or hear about people's interactions with Lincoln's health care safety net.
---
2014 Annual Meeting Recap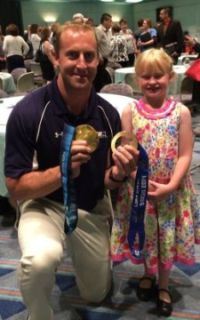 Thank you to everyone who made this year's annual meeting a success. Olympic Gold and Bronze Medalist Curt Tomasevicz's inspired the crowd with his personal story of persistence and focus. Our special guest, double Olympic Gold Medalist Charlie Greene, reinforced Curt's message.
Congrats to our award winners, Kit Boesch, Closing the Gap Award; Staci Bell, Mike Tavlin Leadership Award, and Beth Brady and Susan Stibal, Horizon Award. See photos of these award winners on our Events and Awards page. Their hard work and dedication is putting us one step closer to becoming a healthier community! 
If you weren't able to join us for the meeting, watch it online here.
---
The Community Health Endowment (CHE) is working to make Lincoln, Nebraska, the healthiest community in the nation.
We keep a watchful eye on the horizon and on our vision, and we foster innovation, creativity, strong partnerships and the exchange of good ideas. It is a privilege to work toward a healthier Lincoln. We invite you to help guide our way.