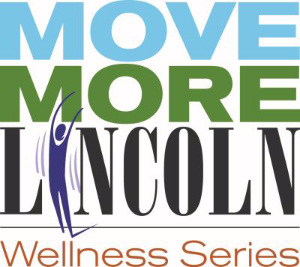 In collaboration with the Lincoln Parks & Recreation Department, the Community Health Endowment is offering a series of free fitness classes. All classes take place in the Jayne Snyder Trails Center, 250 North 21st St. Classes are free and drop-in. No pre-registration is required and all fitness levels are welcome.
2019 Move More Lincoln Class Schedule
May 28 -September 28, 2019
Mondays: 12:00-12:45 p.m. - Pilates
Tuesdays: 5:30-6:30 p.m. - Zumba
Wednesdays, 12-12:45 p.m. - Yoga
Thursdays 5:30-6:30 p.m. - Zumba* 
Fridays: 12:00-12:45 p.m. - Feeling Fit with Aging Partners 
Saturdays: 10:00-11:00 a.m. - Yoga
(No class June 6, 21, or 22 or July 4)
*Thursday Zumba classes will be held at the F Street Community Center, 1225 F Street, beginning August 15
Please bring a yoga mat or thick towel for yoga and Pilates. Mats are not provided.
Sundays in September (1, 8, 15, 22) at 10 a.m.
PLAY Lincoln – free outdoor yoga
John Shildneck Bandshell 
Antelope Park, 3140 Sumner St.
For more information follow us at Move More Lincoln on Facebook and Twitter.