Moms United Means Healthier Babies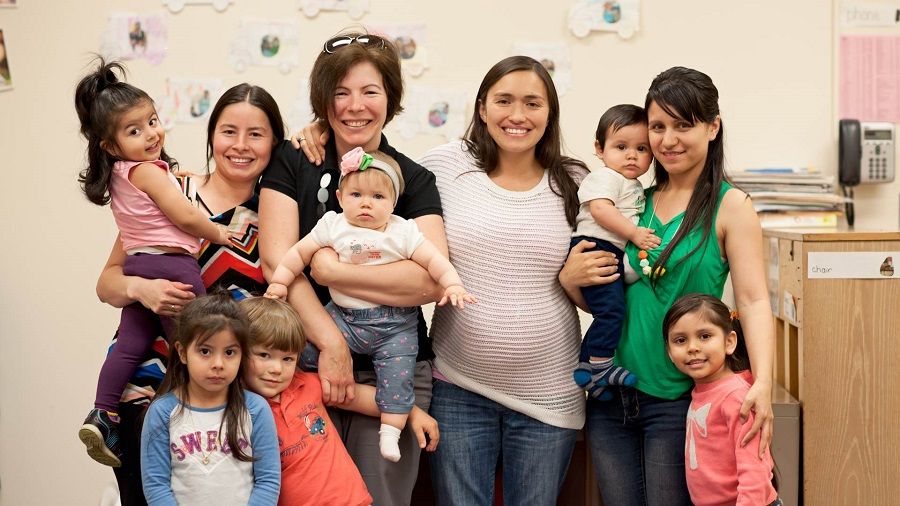 (Julie Braunsroth, second adult from the right, with some of the moms and kiddos she meets with on a weekly basis)
As any new mother knows, nursing an infant may be far from easy. Breastfeeding may seem straightforward but can come with its own bundle of worries.
"Should I be feeling any pain? Is it normal for my baby to behave this way? Am I the only one experiencing this problem?"
Most women usually learn about breastfeeding from the conventional wisdom of their family or friend circle. But for Julie Braunsroth, a native of Colombia, such immediate support wasn't an option. Julie had moved to the U.S. for her Nebraskan husband, whom she had met at a political rally in Bogota. It was here in Lincoln that Julie became pregnant with her first child—hundreds of miles away from her mother, sisters, and aunts. Like many new mothers resettling in America, she suddenly realized proximity matters when seeking breastfeeding advice.
"Sure, I could call my mom and my sister, but of course they were just not there for me in person. I was away from my country and my family and now I'm here with a new baby," she said.
Thankfully, Julie found MilkWorks, a non-profit pioneer in breastfeeding support for mothers in the Lincoln and Omaha areas. Their operation has grown dramatically since it was founded in 2001 by a small team of childcare professionals. MilkWorks now offers consultation and breast pumps approved by most private insurance plans.
While insurance coverage marks the organization's success, it also highlights an issue. According to Executive Director Ann Seacrest, mothers who have private insurance are already 2.5 times more likely to breastfeed exclusively for six months than low-income mothers. Most low-income mothers start breastfeeding in the hospital, but stop in the first three months if they face feeding challenges or return to work. In addition, mothers who are new to America are faced with multiple cultural barriers that may interfere with breastfeeding. To address these difficulties, MilkWorks introduced their now nationally-recognized Community Breastfeeding Educator project in collaboration with Partnership for a Healthy Lincoln.
The job of a Community Breastfeeding Educator (CBE) includes reaching out to other culturally diverse mothers to provide support, answering questions, addressing concerns, and connecting mothers to additional breastfeeding expertise when needed. The CBEs also act as interpreters for mothers and the board-certified lactation consultants at MilkWorks.
Diversity is the project's hallmark. All of the moms reached by this project identify as being culturally diverse (non-white or non-English speaking). One major success is that moms, "regardless of their background or their language, realize that there is someone out there who understands breastfeeding and can guide them through the process," said Executive Director Seacrest.
After a positive experience with MilkWorks, Julie Braunsroth decided to use her own bilingual abilities to engage Spanish-speaking mothers. She is now one of six CBE who engage in weekly conversations with mothers who share a similar culture. Among these talented women, languages such as Arabic, Karen, Burmese, Vietnamese, Chinese and Nuba are also represented. Julie says that mothers generally receive her support warmly, which is not uncommon for any of the CBEs—someone always needs support.
"Mothers bring an issue with their child or their milk or their breast and we can say, 'oh, that happened to me too,' or, 'you can try this 'or, 'you should call your doctor,'" Julie said.
"To me, community means moms need moms."
The community power being fostered by MilkWorks is impressive. While only 22 percent of mothers statewide breastfeed exclusively for the medically recommended six months, Lincoln's Community Breastfeeding Educators, in partnership with MilkWorks, are determined to provide the necessary support to increase this rate—one mom and baby at a time.