We're working to redesign this website and make it easier for you to find things. For now, please excuse anything that looks funny and let us know if you can't find what you need. The new website will be done by early fall.
Connect with us!
News & Announcements
Posted on 10/10/2016

CHE's Community Conversation series returns with two "My Story" events, one on food allergies and one on prescription drug addiction, and the reprise of one of our most popular conversations, a look at the changing landscape of health care in Lincoln. Learn more about each event and register by clicking on the title of this article. The first event is October 25, so register today!

Posted on 06/23/2016

Many children from Lincoln's low-income families will have more opportunities for quality early childhood education and health, nutrition and fitness programming thanks to CHE's most recently awarded grants. Click on the title of this article to download the news release about these grants supporting 12 organizations .

Posted by Marcia on 04/25/2016

CHE has released the 2017 Funding Calendar including dates for both the Spring and Fall Cycles. Click on the title of this article to download the calendar. Watch this space for updates on the Applicant Workshops and other funding calendar news.
Community Conversations Explore Food Allergies, Opioid Addiction and Health Care Landscape
The Community Health Endowment of Lincoln (CHE) is sponsoring its fourth series of Community Conversations beginning October 25. Two events continue the popular "My Story" theme and the third updates one of the most popular conversations of the past three years by revisiting the changing landscape of health care in Lincoln.
All events are free to the public and held at CHE, 250 N. 21st St., Suite 2 (upstairs). Free parking is available in front of the building and in the lot north of 21st & Q. More information and registration is available at http://communityhealthendowment-lincoln.eventbrite.com. 
---
2016 Annual Meeting Highlights Six Lincoln Fighters, Dreamers, and Doers
This year's Annual Meeting featured six short presentations from people working to make Lincoln a healthier community. The speakers shared how they fought for increasing access to health care, why they dream of helping moms breastfeed their babies, and what they do help people struggling with mental illness. The presentations talked about growing up in places as different as Greeley, Nebraska, and Bogota, Colombia. Together, their stories demonstrate what's possible right here in Lincoln.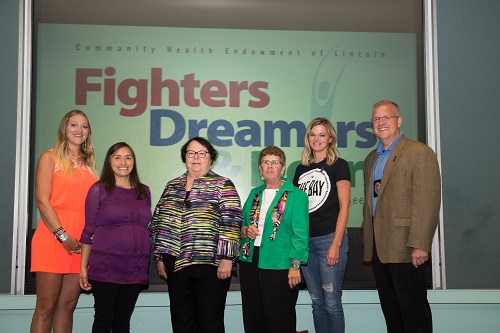 CHE also presented three awards during the Annual Meeting. 
| | | |
| --- | --- | --- |
| 2016 Michael J. Tavlin Leadership Award winner | 2016 Closing the Gap Award winner | 2016 Horizon Award winner |
| | | |
---
"Place Matters" Mapping Project Proves Location Impacts Health
Watch this short video for an overview of CHE's Place Matters Community Mapping Project and an introduction to our interactive, online maps. For access to the online maps, click on the Place Matters tab in the navigation bar above.
---
The Community Health Endowment (CHE) is working to make Lincoln, Nebraska, the healthiest community in the nation. Focused on that vision, we foster innovation, creativity, strong partnerships and the exchange of ideas. Since its inception in 1999, CHE has returned more than $23 million to the residents of Lincoln to help make Lincoln the healthiest community in the nation.